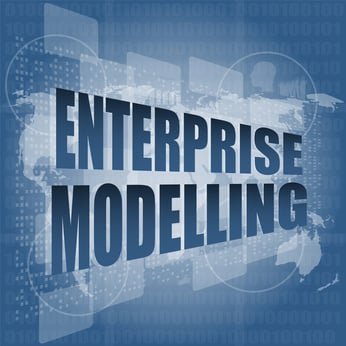 Setting strategic objectives, putting processes in place to achieve them, and realizing the results you desire seems simple – at least in theory. In reality, organizations of all sizes struggle with making this happen.
Why? I could launch into many reasons to address that question, but the heart of the problem lies in three distinct silos within your operations – strategy, analysis and execution – here are a few tips to overcome these problems.
1. Standardize your enterprise modelling technology
While use of Microsoft Office software such as Excel, Word, and Powerpoint will likely remain in use for reporting and presentation purposes, it is most critical to standardize on a single modelling tool. A single enterprise modelling and architecture tool will allow each strategy stakeholder to model its piece of the business in a common format, allow for collaboration across multiple participants, and enable the models to come together easily into a single enterprise view. The resulting enterprise-wide model can then be viewed at a high-level or viewed in detail by drilling down into specific areas of the enterprise. A strong Enterprise Architecture (EA) and Modelling tool will provide the following:
Ability to model all assets and interrelationships, including systems, data, people, resources, products, services, customers, processes, etc.
Ability to work on, share, and manage models in a collaborative on-line environment.
An interface and methodology that is intuitive and easy for business users of all types to use.
A set of reference model frameworks that accelerate adherence to desired industry standards.
Ability to roll multiple models up under a single framework and overall enterprise model.
2. Select the right business process analysis tool and standardize on it
We know you love it, but you must accept the fact that Microsoft Visio is not a true business process modelling and analysis tool. It is a great drawing tool, but it does not provide any intelligence to help you with process discovery or optimization. Nor does it provide you with an easy path for process deployment. If you want to get serious about process improvement, you need to select a business process analysis (BPA) tool that provides:
Ability to model not only the process itself but also all of the people, systems, data, services, resources, and associated interdependencies associated with that process.
Ability to work on, share, and manage process models in a collaborative online environment.
An interface and methodology that is intuitive and easy for business users of all types to use.
A built-in set of optimization algorithms and methodologies that are proven and that meet your specific industry and process needs.
Ability to import Visio diagrams so you can use what you have as a starting point.

A clear technology path for automation and deployment of process models – either a packaged connector to a third-party BPM system or ideally a shared framework with a BPM platform from the same vendor.
3. Select the right business process management suite.
Without the right Business Process Management (BPM) software, you will never achieve the gains in efficiency, productivity, or visibility that you desire. BPM software also allows you to become more flexible and agile while at the same time gaining greater control over your processes. Here are a few critical capabilities to look for in a BPM suite:
Ability to support the entire process life-cycle, including process design, automation, integration, monitoring, analysis, and simulation.
Ability to fully support both human-centric and system-centric processes on an enterprise scale.
Ability to integrate with a diverse set of systems, platforms, and services.
An interface and methodology that is intuitive and easy for business and IT users of all types.
Proven results and a track record of rapid deployment and flexibility to adapt to change.
4. Collaborate, collaborate, collaborate
Communication across the three silos is important, as is communication between business users and IT. Here are a few ways you can foster collaboration across roles:
Create a heterogeneous working group comprised of representatives from various departments; include both business and IT constituents.
Reward people for actions that result in process excellence and have a positive impact across the enterprise.
Leverage technology as a bridge for collaboration – software that appeals to both business users and IT can help foster a shared understanding and accelerate project success.
You can accelerate success by choosing a single technology platform that addresses all three critical disciplines and is designed to meet the needs of both business and IT stakeholders.