What to Look for in a Document Management Solution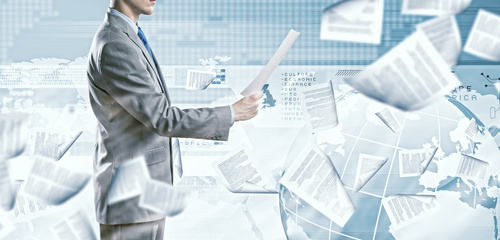 When looking for a document management solution it is wise to consider some key characteristics.
Fast and Easy End-user Access
If a system is hard to use and access, users will waste valuable time—both theirs and your IT staff's—or eventually abandon the solution. When evaluating different products, make sure they are user-friendly and easily adoptable within a user's daily workflow processes. Check out the vendor case studies and talk to end-user references. Is it easy for content contributors to add, annotate, index and view documents? Does it offer integrations with Microsoft Office and other familiar applications? Also consider the people that need to access content. Look for a solution that provides quick and easy read-only access to stored information.
Integrated Document and Records Management Capabilities
Make sure the solution offers a records management module integrated with the document management system. Avoid 'two-vendor' solutions that are disguised as 'integrated'. This will benefit both IT and records managers and reduce the complexity of managing your documents. Does the solution enable IT and records managers to share the same repository? Can records retention policies such as required classification, legal holds and dispositions be easily applied directly to the document repository? Is the repository secure?
Rich Indexing and Search
Remember that the better the indexing and search capabilities, the faster, easier, more accurate and less costly it will be to discover and provide information for customer service, litigation or audit purposes. It is important to look for a solution with full-text indexing that is fully integrated with customizable metadata searching. Is it fast and easy for searching? Does the product provide a powerful search engine? Can it
handle large volumes of data? Does it offer multiple ways of searching? Look for search client options such as a Windows desktop client to view repositories on a LAN/WAN or on portable optical discs such as CD, or DVD, and an Internet Explorer client for Web access.
Security and Control
Confidentiality, compliance and accountability issues require enhanced security and control over business data and documents. A document management solution should provide security that is higher than that of your network and provide a tamper-proof repository to store your documents. What feature and access rights can administrators establish? It should provide multiple security levels such as authentication,
authorization, audit trail, reporting and disaster recovery. In addition, role- and user-based security should be extendable to individual repositories as well as at a specific document level, regardless of location.
Flexible Storage Options
Different regulations and storage volume may require different types of storage devices. It is important that the solution supports different storage devices on which documents can be archived. Look for a solution that is able to store archives onto hard drives, Networked Attached Storage (NAS), CDs, DVDs, RAID, tape drives, Storage Area Networks (SANs) or any other storage device. This will enable you to comply with regulations calling for non-rewritable, non-erasable media while giving you flexible options that meet your budget requirements.
Simple Deployment and Management Tools
If you are like most organizations, your IT resources are overloaded and budgets are tight. That makes it imperative to evaluate any solution based on how easy it is to deploy, use and manage for your IT staff. Look for products with a high degree of out-of-the-box functionality that does not need to be programmed or configured. Ask what integrations, tools and technologies are available with the product? For example, does it offer flexible SDKs and open APIs for Visual Basic, C++, Web and .NET programmers? These tools will reduce the time, expense and amount of IT resources for deployment. Also consider ongoing maintenance requirements. To enjoy a truly low total cost of ownership, make sure it is easy to perform ongoing maintenance and does not require extensive training.