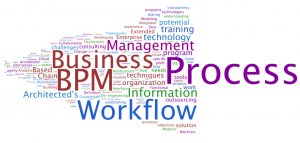 While sharing similar concepts, Business Process Management and Workflow Automation Software are very different in terms of their offerings and capabilities.
Business Process Management (BPM)
Characterizes a series of activities independent from specific applications
BPM is a superset of workflow
It is distinguished by its ability to coordinate activities and tasks among users
BPM connects disparate systems enabling seamless data sharing and universal control from a single interface
Business processes, once defined, are modeled, automated, managed and optimized to be effective, cost efficient and achieve high operational performance
It is used to capture, evaluate and analyse information from outside sources efficiently and effectively
With the ability to distinguish between execution rules and the actual flow of the process, BPM rules allow you to govern your processes
Workflow
Facilitates simple routing of tasks or activities from person to person
Workflow Automation Software uses application-specific sequencing of tasks established with predefined rules, including either automated or manual activities
The ability to integrate between workflow-specific systems and other external systems is often limited, only allowing document and data retrieval
Workflow Software is very basic in its ability to analyse and report on content analysis
The process flow is fixed, meaning cannot adapt to or provide for multiple possible paths to the same goal
What is in Common?
The need to automate core processes to eliminate bottlenecks, cut out redundancies, and achieve operational efficiency is what BPM and Workflow have in common.

When automating a business process, it is crucial to test your process in a virtual environment to ensure that the activities and tasks you are automating are as efficient as possible and free of bottlenecks. This where a Business Process Management Suite can enhance your workflow automation initiatives as it gives you the ability to investigate and test your processes for inefficiencies. Unfortunately, this is not possible with a simple workflow automation tool.

Consider a case in which you use a workflow automation tool, which is geared specifically to automate and manage business processes. If you do not test or even model your automated business process in a virtual environment, all of the work you do to get to the process automation stage is at serious risk. You will automate a potentially inefficient, untested, and unproven process. The end result of this type of approach is that the bottlenecks in your business processes will be much more of a problem than they were before.

In a Business Process Management Suite (BPMS), you not only have the ability to automate and manage your business processes, but you also can leverage two other vital concepts: modeling and optimization. Modeling allows you to test your process in a virtual environment first (before the automation stage). By mapping out your process, you will be able to determine bottlenecks, inefficiencies, and high resource usage situations in your process. It is a best practice to understand all of the risks associated with the project.
In terms of Process Improvement, this is where modeling makes the most sense. By utilising the modeling capabilities of a BPMS, you will have the ability to measure process effectiveness and identify potential process bottlenecks BEFORE investing deeply in making the automated process "live." Identifying and resolving these situations in your process first during the modeling stage, and then proceeding with process automation, ensures all the work you have performed to get your process to the automation stage will contribute to your success.
Related article: Metastorm BPM Concepts