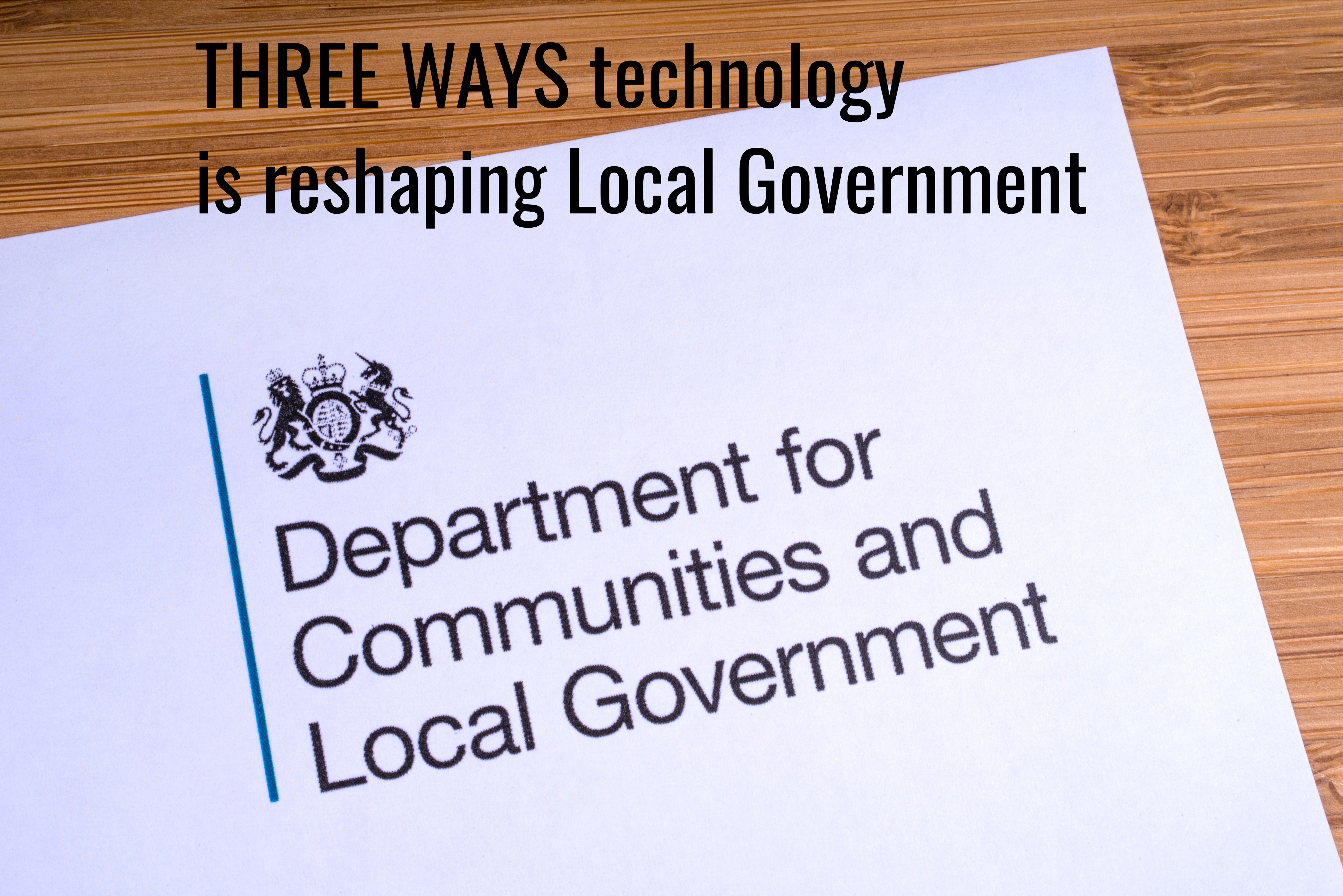 Three ways technology could reshape local government
Cutting-edge advances in technology have already revolutionized a variety of industries, from manufacturing and financial services to healthcare and telecommunications. But what can the newest tech trends do for our public institutions and local governments as well?
Historically, the public sector has been slow on the uptake, if not downright hostile, when it comes to adopting new tech developments and trends. Yet a growing number of local governments are proving this stereotype wrong by embracing digital transformation. In fact, there is a 2020 digital transformation strategy set out by the government which lists out clearly the objectives they would like to achieve by 2020. One of the key objectives is to deliver world-class digital services and transform the way government operates, from front-end to back-office, in a modern and efficient way.
But how is technology helping Local government achieve these transformation objectives?
In this article, we'll discuss three ways that we see the latest technology affecting the working of local government:
1. Robotic process automation for local government
Robotic process automation (RPA) is the use of software "robots" to automate a variety of tedious and repetitive manual tasks. According to the consulting firm McKinsey & Company, RPA can offer a return on investment of 30 to 200 percent in just the first year alone.
Like many other industries, public governmental institutions suffer from problems and inefficiencies that can make them less effective and productive. By adopting RPA, local governments can cut their expenses and free up their human employees for more engaging and high value activities.
For example, the North Tyneside Council in northeast England has successfully implemented RPA within its workflows, and expects to see savings of up to £56 million in the next several years as a result. Already, RPA agents have slashed the time required to process benefits claims from 36 days to just 25, with customer satisfaction over 85 percent. Robotic Process Automation finds various use cases like that within local government.
Some examples are listed below -
Capturing data from paper or electronic forms and updating in the back-end systems. These tasks can be completed in one third of the time it would take a person, and with 100% accuracy.
RPA can be used by local government for updating HR or Payroll where the robots can update new starter information or change in address or remuneration for existing employees.
RPA is being used in local government for updating electoral roll records.
RPA is also enabling Local government/councils to bring back a lot of the outsourced processes back in-house . Many councils operate in the shared services model and RPA is being used in these local government offices to automate some of the manual processes in the shared services centre.
RPA is also being used to validate information submitted by benefit claimants and process claims quicker

2. Big data and analytics
Most organizations have a wealth of insights at their fingertips, but they're locked away within unimaginably high quantities of raw data. In 2019 and beyond, the local governments that know how to best leverage this data will be those that distinguish themselves in better serving their citizens.
For example, the city of Dubuque, Iowa installed smart water meters in residents' homes in order to collect information about how much water was used at different times of day. Not only did the pilot program save 50 million gallons of water, it also increased the city's revenues by $180,000.
When local governments can tap into these insights, the use cases are significant: improving traffic and public transportation patterns, lowering street crime, and reducing pollution and others listed below:
Many local governments have high volume of data (both hard data and soft data) on local citizens and local businesses. Big Data can be used to improve services, increase quality of life and make doing business easier.
With GDPR and compliance regulations, Big Data tools are extremely helpful in tagging Personally identifiable Information (PII) and process it according to set government rules and policies.
Big data and analytics can enable local government to customise and improve citizen services by making useable data more accessible. Councils like Manchester, are already using big data to enable deeper analysis of data to help their front line staff provide better services.
3. Internet of Things (IoT)
According to the United Nations, the world population living in cities will rise to 68 percent by 2050, up from 55 percent today. With urban areas continuing to grow and expand in area, technology like the Internet of Things (IoT) can play an invaluable role in making the cities of tomorrow safer, cleaner, and more livable.
The term "IoT" refers to the vast system of interconnected devices—from smart home products to self-driving cars—that use the Internet to communicate and exchange information.
While large-scale adoption of IoT in mainstream society has been slow, the potential upsides for IoT in local government are nearly limitless. IoT can help build the "smart city" of the future envisioned by urban planners, in which widespread arrays of sensors collect information that can be monitored and analyzed for valuable insights. Some UK councils such as Bristol are using a combination of IoT and Big Data Analytics to make more efficient use of infrastructure and reduce pollution.
It's no surprise, then, to see IDC's estimate that worldwide spending on smart city initiatives will nearly double in just four years, from $81 billion in 2018 to $158 billion in 2022.
Convedo, is working with various local government offices in the UK and is also listed on the G-Cloud Digital Market place, making it easier for local government to procure digital transformation services via the framework. We strongly believe that it can reshape the way local government works today and hence we are working together with Loughborough university in an initiative to identify how RPA and other technologies together as Intelligent Automation can be used for public good. To know more the initiative read more or follow #rpa4good on LinkedIn and Twitter.