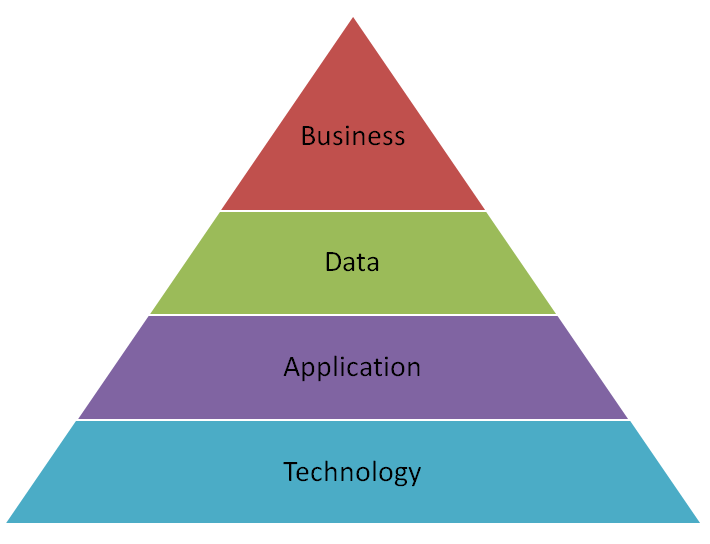 Frameworks are used to encourage the use of a consistent structure for architectural descriptions. Because an Enterprise Architecture (EA) is a multi-dimensional representation of a large and complex entity, a variety of multi-dimensional structures are possible, differing in the number and nature of the dimensions. Each representation of an Enterprise Architecture is referred to as a "framework". Widely used Enterprise Architecture frameworks include the Open Group Architecture Framework (TOGAF), Six Sigma and the Zachman framework. Many EA tools available today provide support for all of these frameworks by accommodating each framework's notation conventions and model types.
1. The Open Group Architecture Framework (TOGAF)
TOGAF is a framework for the application of Enterprise Architecture within a company or organisation. Within this framework, which was developed by The Open Group, there are tools for creating, maintaining and developing architecture. TOGAF is based on an iterative process model supported by a number of best practice, reusable architectural components. Since the first version of the framework was introduced in 1995, it has been updated a number of times, the latest version being TOGAF 9 which was launched in early 2009.
The key to TOGAF is the Architecture Development Method (ADM) that is used to create architectural descriptions for specific business and operational requirements. ADM is a practically focused method for producing Enterprise Architecture and driving change within a company or organisation.
By being able to control which business and operational needs you are starting from when you are working with ADM, you can ensure that the benefits delivered not only work directly but also that the architectural descriptions can be reused when establishing common Enterprise Architecture across an entire organisation.
2. Six Sigma
Six Sigma is a powerful approach to improving processes to do things better, faster, and at lower cost. It can be applied to every facet of business, from production, to human resources, to order entry, to technical support.
Six Sigma started in the mid-1980s at Motorola in response to the needs of a sale force faced with increasing customer dissatisfaction and competitive pressures. To address these problems, Motorola created a set of formulas and tools that identified and measured what was important to their customers and then applied the findings to performance.
Any activity concerned with cost, timeliness, and quality of results can benefit from the Six Sigma approach. Unlike other quality improvement efforts, Six Sigma uses a specific philosophy, measure, and methodology to provide tangible savings that are directly traceable to the bottom line. The benefits of Six Sigma include:
A clear focus on activities and attributes that are absolutely crucial to customers.
The elimination of process variation and inconsistency.
Targeted improvements that provide the largest financial return on effort and can be measured by increased profit, revenue, and customer satisfaction.
Far-reaching shifts in company behaviour and the active participation of top management.
3. Zachman
The Zachman framework is a popular way of representing the various types of descriptive information and perspectives that might comprise an enterprise architecture. It consists of a six-column matrix that represents types of information addressing the Who, What, Where, When, Why, and How aspects of an enterprise. The rows of the matrix present six perspectives, with the top row containing cells for the most abstract descriptive information and the successively lower rows representing perspectives that are related to implementation.