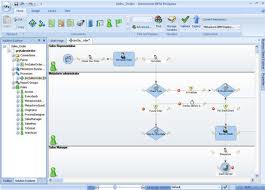 This blog post provides an overview of the new features and fixed bugs of OpenText MBPM 9.5.
OpenText's MBPM (formerly Metastorm BPM) delivers the insight, power and agility you need to make your vision for business improvement a reality. To respond to increasing competitive pressures, regulatory changes, and customer demands, companies today are looking for ways to not only increase their effectiveness and efficiency but to also become more capable of change than they are today.
With Business Process Analysis, your business can achieve results quickly by:
Interfacing with a more agile, intelligent business process platform that integrates the underlying applications and information

Providing improved business insight across process execution
Designing processes rapidly that deliver competitive differentiation, without the constraints imposed by legacy systems
Taking advantage of personalized user experiences that offer the latest social, mobile, and cloud based technologies
Support for Always On Availability
The Always On Availability Groups feature of Microsoft SQL Server is a high availability and disaster recovery solution that provides an enterprise-level alternative to database mirroring.

In MBPM 9.5, OpenText has confirmed that OpenText MBPM supports the Always On Availability Groups feature with Microsoft SQL Server 2013 and Microsoft SQL Server 2016.
New Supported Systems
The supported environment for MBPM is the same as version 9.4.2 with the addition of the following:
Windows Server 2016

SQL Server 2014 SP2

SQL Server 2012 SP3
Fixed Issues
In version 9.5 of OpenText MBPM many bugs have been fixed, especially around the Web Client functionality. You can find the detailed list of bug fixes at OpenText's My Support.
OpenText's MBPM strength is integrating into other business systems via modern interfaces. Learn more about integration capabilities in our article OpenText MBPM Integration Capabilities.