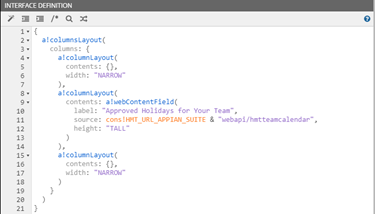 The latest release of Appian, the Digital Transformation Platform (TM), accelerates your digital transformation efforts. Appian build 17.3 provides new features that improve the Appian user, designer, and administrator experiences.
For End Users
More convenience
Updates focused on further improving the Appian user experience:
Enhanced Task Linking from Email: The link from an email notification navigates directly to a task in the environment of a user's start page (Tempo or Sites).
User Settings enhancement: Access user settings from all Appian environments, including Tempo, Sites, Quick Apps Designer, Appian Designer, and Appian Console.
SAIL improvements: Several enhancements that provide greater control and options for designers to create an ideal user experience.
And more...

For Designers
Powerful design
Updates provide enhancements to speed design of responsive user interfaces:
NEW Connected Systems: Makes managing multiple integrations across a system faster and easier.
Designer improvements: Experience many new improvements to Decision Designer, Expression Designer, and Search in Design.
And more...

For Administrators
Easy Administration
Updates that increase the ease of Appian administration:
Support for Multiple Identity Providers for SAML: Incorporate more than one SAML Identity Management Provider (IDP) to manage authentication to a single Appian instance.
NEW On-Premise Engine Management Architecture for High Availability: Enable high availability for your on-premise Appian installation.
For a detailed list of new features and updates, please review the Appian Release Notes.