RPA in Financial Services: 5 Use Cases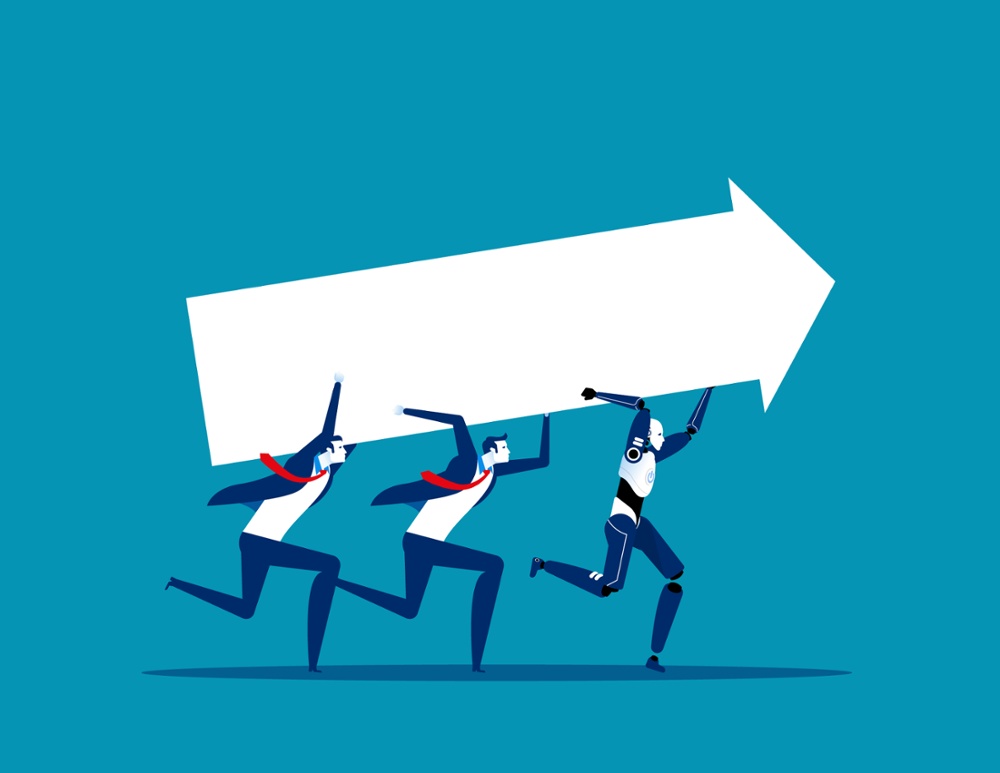 As we're moving further into the era of Artificial Intelligence (AI) and Machine Learning, one of the most prominent tech trends is Robotic Process Automation (RPA). RPA and process automation technologies are bringing numerous benefits to a wide variety of industries. Today, an increasing number of financial institutions, banks, and insurance companies are transforming their operations by using intelligent automation and RPA to handle repetitive processes and administrative tasks.
1) A Growing Demand for RPA
As an increasing number of companies seek to automate and digitalize their operations, the demand for RPA is growing rapidly. The total RPA market is forecasted to grow at double-digit rates through 2024, despite the general economic downturn. It seems the benefits of automation are becoming so clear that very few companies will want to risk being left behind.
"The key driver for RPA projects is their ability to improve process quality, speed and productivity, each of which is increasingly important as organizations try to meet the demands of cost reduction during COVID-19," says Fabrizio Biscotti, research vice president at Gartner.
In this article, we'll look at five different use cases for RPA in the financial industry, and the business benefits that this technology brings to each scenario.
Table of Contents
A Growing Demand for RPA

How RPA Improves Customer Service

How RPA Facilitates Compliance

How RPA Improves Trade Settlement Processes

How RPA Optimizes Data Aggregation and Reporting

How RPA Streamlines Payroll Processing

Conclusion
2) How RPA Improves Customer Service
Robotic Process Automation (RPA) entails a wide range of intelligent tools for automating repetitive tasks. Customer service is one of the industries with a lot to gain from automation, and RPA offers solutions to several problems. In contact centres, RPA enables an integrated, quick, and pleasant customer journey by speeding up and optimizing processes. Software robots are trained so that they are able to perform rules-based functions, just like a human would, and can take on tasks that previously required human interaction. In the context of customer service, RPA is not only a back-office tool but also customer-facing. Some of the repetitive tasks of first-line support can be automated, leaving agents and salespeople more time to focus on bringing actual value to their customers.
A real-world example is Danske Bank, who shared their experience from RPA in a presentation to the Deloitte Finance Agenda. One of the processes they'd automated was the customer account onboarding process. By automating data entry at the beginning of each call, a process that before would have required 20-30 minutes of the advisor's time, was reduced to only seconds.
Research suggests that over 70% to 80% of rules-based processes, in general, can be automated. Considering the importance of customer experience, introducing RPA technology in customer service is a great place to start.
Benefits of RPA in customer service:
Improved service level

Improved efficiency

Reduced wait

Cost savings

Increased profitability

Error reduction
3) How RPA Facilitates Compliance
The financial industry is heavily regulated, and compliance is a prerequisite for a functioning business. RPA, and other tools for automation, can significantly improve processes for compliance. A survey by Accenture showed that 73% of compliance officers believe that automation will be an essential tool in compliance in the future.
One of the benefits of RPA is that it's always on and available, regardless of geographic location or time. RPA can be used to collect transactional information, credit scores, and validate and analyze data without human interaction. If the robot detects suspicious activities, it flags it immediately, thereby increasing security.
Benefits of RPA in compliance:
24/7 availability

Streamlined processes

Increased security

Increased accuracy

Time savings

Cost savings
4) How RPA Improves Trade Settlement Processes
Trade settlement procedures are another area where RBA can improve processes a lot. Software robots can take over tasks like clearing trades, order research, and address any discrepancies they find.
BNY Mellon is one of the investment banks that started automating trade settlements several years ago; to save time, money, and to let employees focus on value-adding.
"Automation via robotics is one way we are automating our processes and freeing our people up to do more valuable analytical and client services work, says Doug Shulman, Head of Client Service Delivery at BNY Mellon."
By doing so, the bank reported an 88% reduction in transaction processing times, at an accuracy rate of 100%.
Benefits of RPA in trade settlement processes:
Reduced transaction processing time

Time savings

Cost savings

Employees can focus on value-adding tasks

Reduction in errors
5) How RPA Optimizes Data Aggregation and Reporting
An explosive increase in data has characterized the last decades. Data is everywhere, in all kinds of formats. The challenge is not accessing it, but rather in sorting through all the noise, finding the information that matters, and making use of it. This is where RPA and automation play a vital role. The robots never get tired; they keep aggregating, analysing, and storing information 24/7. Letting RPA tools do the heavy lifting, when it comes to data aggregation and reporting, will free up time for your team so they can focus on taking action on insights derived from the data.
Benefits of RPA in data aggregation and reporting:
Increased performance

Better overview

Improved insights and analytics

A focus on acting on data rather than on handling it
6) How RPA Streamlines Payroll Processing
One time-consuming and repetitive task that is recurring every month is the processing of payrolls. This is something that takes up a lot of time for the HR team, and it involves massive data entry efforts. There is also the risk of human error, potentially resulting in inaccurate of delayed salaries and friction. With RPA, it becomes easy to verify data across multiple systems, check and validate time reports, and enter earnings, benefits, and deductions. RPA is also useful for automating the creation of payroll and other documentation. With RPA, it's possible to automate the entire payroll processing and the transactions for smooth operations, minimal errors, and immense time and cost savings.
Benefits of RPA in payroll processing:
Time savings

Cost savings

Increased accuracy

Frees up time for the HR team
7) Conclusion
As we've seen, there are many use cases for RPA in the financial industry. In this article, we've had a closer look at five areas within financial services where RPA can help streamline operations:
Customer Service

Compliance

Trade Settlement Processes

Data aggregation and Reporting

Payroll Processing
The most important benefits of implementing RPAs in these contexts include optimized processes, time and cost savings, and fewer errors. As the amounts of data keep increasing, and customers expect immediate service, RPA will become even more important. As with all intelligent automation, RPA frees up time for your co-workers to focus on innovation and customer experience, rather than on tedious, repetitive administration and maintenance.
Ultimately, RPA offers useful tools for banks, financial institutes, and insurance companies as they set out to tackle their most critical challenges going forward.