Event: Everything you need to know about Intelligent Automation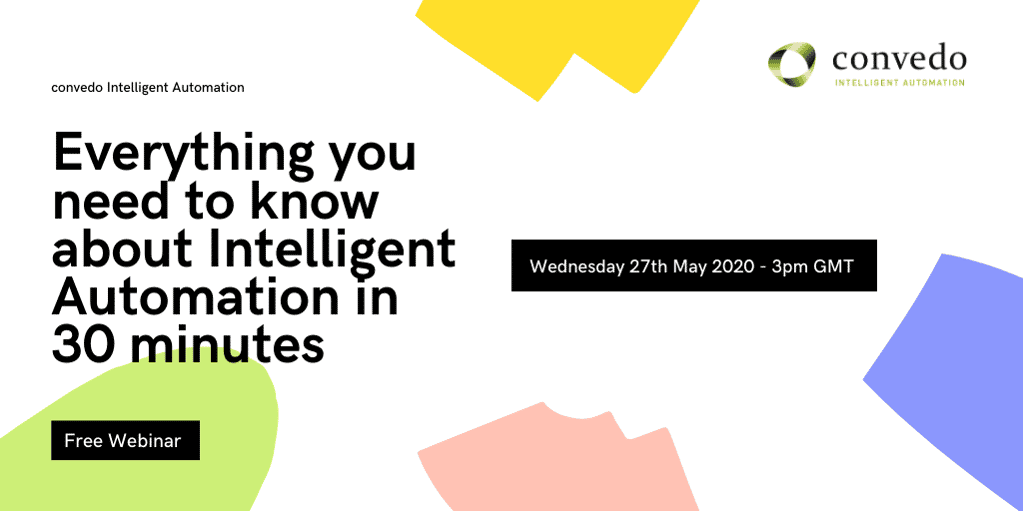 Please join us for a 30 minute coffee break as we explore...
What Intelligent Automation is

How to identify the right processes for intelligent automation
How to increase efficiency by 90% by simply automating repetitive tasks
How is works in a quick Demonstration


During the 30 minute coffee break, attendees will have the opportunity to explore Intelligent Automation and its benefits. The session will cover key topics such as identifying the right processes for automation, the advantages of automating repetitive tasks, and the significant increase in efficiency that can be achieved through automation.
In addition, attendees will be treated to a quick demonstration of Intelligent Automation in action, providing a first-hand look at how the technology can streamline workflows and boost productivity. With the expert guidance of the convedo team, attendees will gain valuable insights into how Intelligent Automation can benefit their organization and improve their operations.
This coffee break event is an excellent opportunity for attendees to gain knowledge and insights into one of the most transformative technologies of our time. Don't miss out on the chance to learn from the experts at convedo and take your organization's operations to the next level with Intelligent Automation.
27th May 2020, 3pm GMT
---
convedo CEO, Sascha Cutura, will host this interactive session and shares how Intelligent Automation is helping companies to do things better, do more and do it with less.