Appian Maintenance Management Tool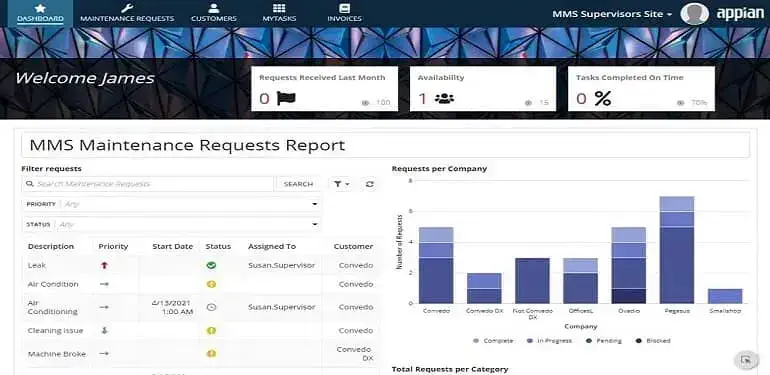 Convedo's Maintenance Management Tool is a process solution for companies performing maintenance work to keep commercial buildings safe and operational. This application improves the process of submitting requests and helps engineers to track their workload. The application allows users to inspect all processes in a quick and easy way. Furthermore, it improves communication between employees using automated emails and alerts. The progress of each request can be monitored in real-time.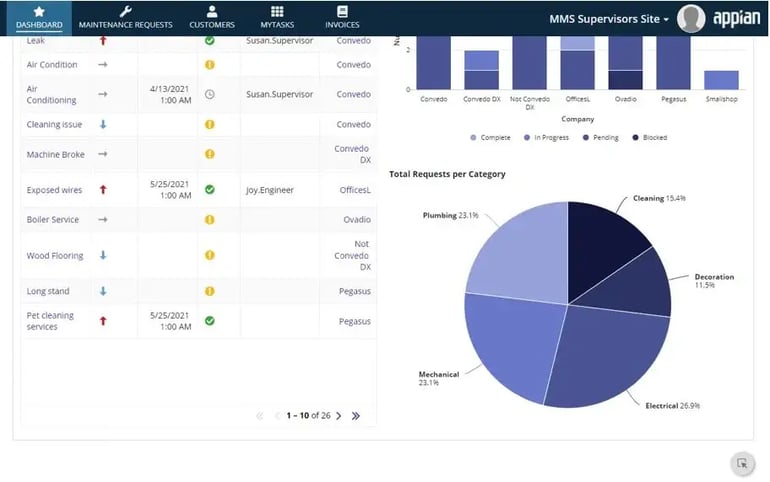 Key Features and Functionalities for Managers include:
Visibility: Users can quickly find the requests that are most relevant to them. All the important details of a request can be viewed in one place. This includes comments from other users, such as supervisors or engineers that have previously done work on the request.
Organisation: Categorise requests by the type of work to allow for better management, and to ensure that requests are assigned to appropriate engineers.
Reporting: Supervisors can see a high-level view of active and historical requests, and view reports showing past performance and KPIs. This includes breakdowns of requests by customer, category and work status.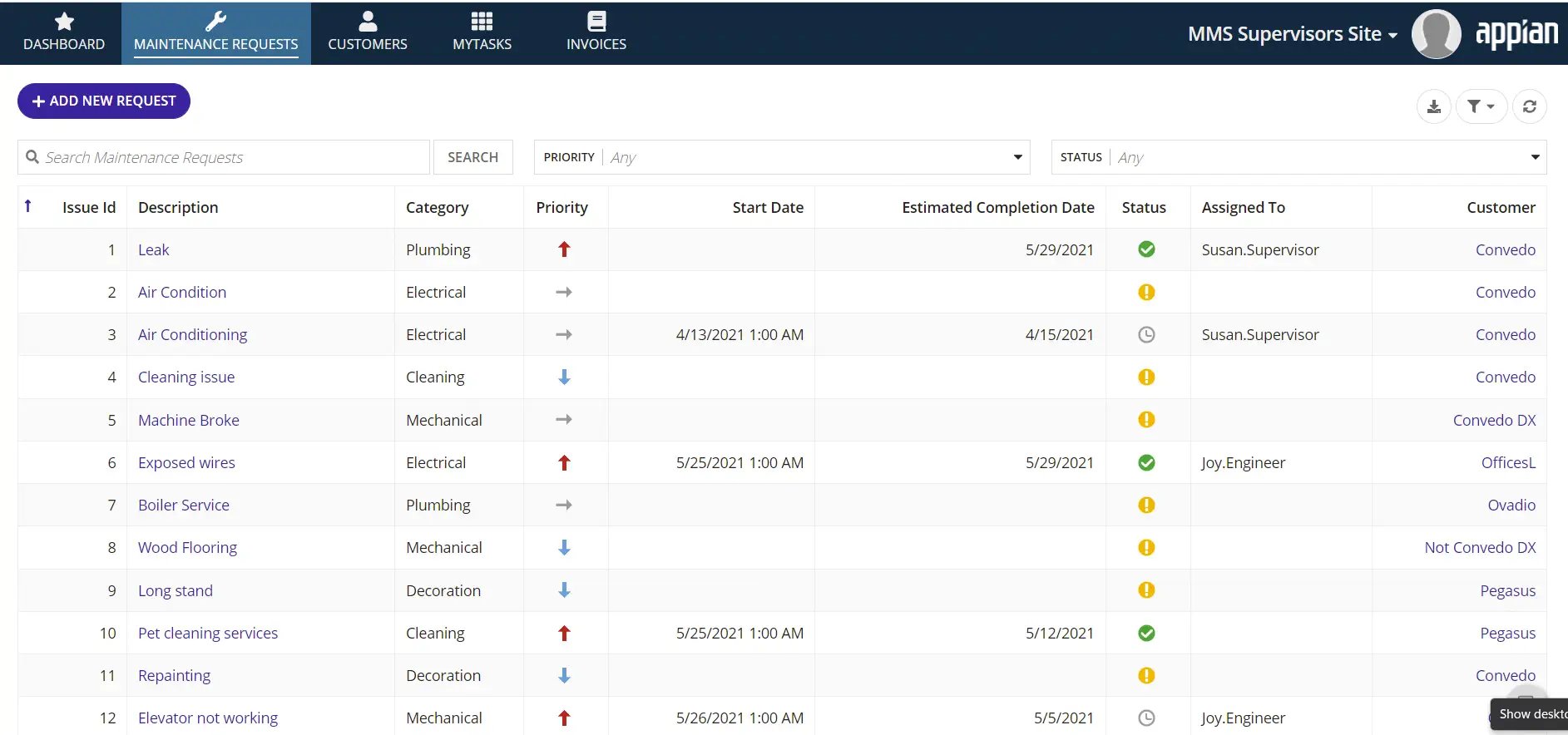 Personal Tasks: Users can add their own notes, such as task reminders or notes on a request. These can be linked to an existing maintenance request.
Customer involvement: Manage customer details and allow customers with access to Appian to create and view maintenance requests directly in Maintenance Management.
Invoice management: Use Convedo's Intelligent Capture Cloud to quickly scan and upload invoices for requests without manually entering data.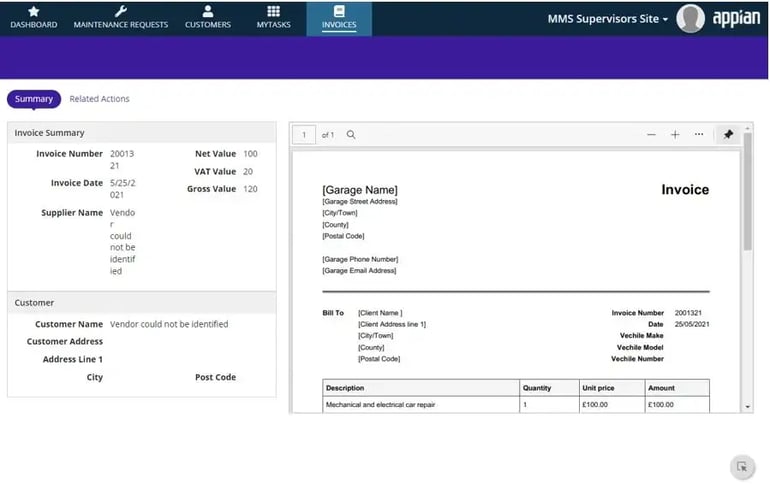 Key Features and Functionalities for Engineers include:
Personalized reports: The engineers who use this application will have personalized reports regarding their assigned issues and equipment needed.
Real-time and mobile accessible: They will be able to access all necessary data on the go through mobile and change the status of a task in real-time.
Notifications: Alerts will notify them of any update of interest while they can also update their availability for a project and keep notes.
Ability to add comments and self-assigning tasks: Engineers have the ability to self-assign tasks and add comments to all tasks that have been assigned to them.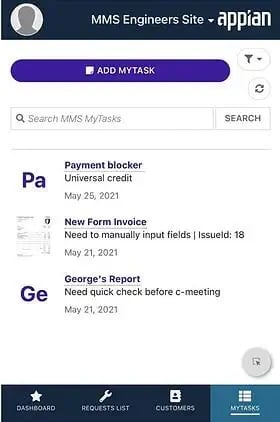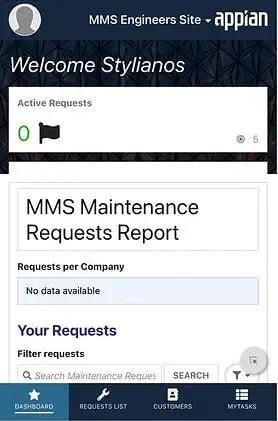 Companies record: All company's data such as addresses and issues are directly available to engineers to improve efficiency.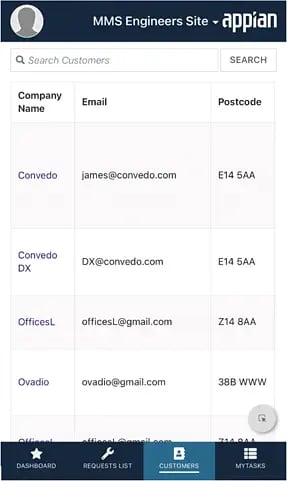 If you would like to see a demo of our Appian Maintenance Management Tool, please contact us or arrange a call with our team of AI experts today, our teams are available for a chat about your business needs and objectives. We have the teams, knowledge and experience you need to successfully execute your intelligent automation initiatives.